Headmaster's Reflection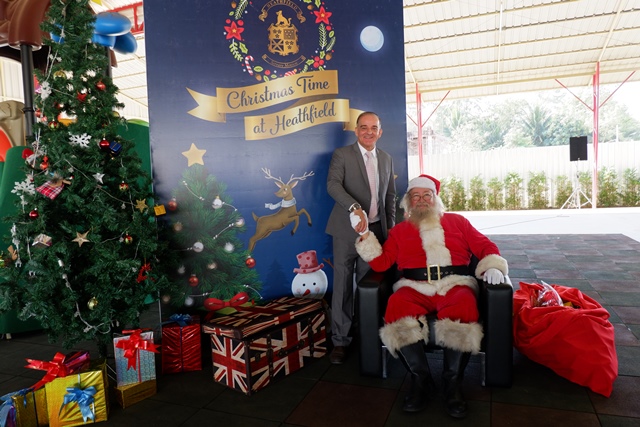 As I sit down to scribe a short consideration about the evolution of HISV throughout its foundation term of operation, I am continually reflecting about the past, present and future. We as an educational institution started from the seeding of an idea that grew into a vision, to be replaced by planning, buildings and recruitment of teachers and ancillary staff, amongst a myriad of other – what I like to term –gears, all essential for opening a school. Needless to say, the most important of those gears are children. To hear the voices of excitable chatter during our opening day of classes brought joy to everybody – stakeholders, members of the Lao community, parents and of course employees of HISV. The past has been a time of achievements, many of them small and intangible, others less abstract and obvious to the HISV community.
Credit and praise is extended to all teachers, teaching assistants, administration staff and ancillary employees. Your professionalism, demonstrated skills, passion and ability to rise to the occasion and face up to challenges by posing solutions, never ceases to amaze me. It has made my task of overseeing HISV so much easier and of course, much more enjoyable.
HISV has a delightfully happy, caring and supportive atmosphere where all children feel safe, secure and are able to smile as they grow and mature. This is a significant outcome and once again testimony to everybody associated with our school.
I would like to express appreciation to the owners of HISV for your ongoing support. Rarely is a request declined, a rarity for an international school. Additionally, it would be remiss not to acknowledge the tremendous support that HISV has received from the British Embassy.
As we evolve as a school in 2019, our enrolments will increase as we expand our Primary classes. This will involve staff recruitment and expansion of our current facilities. The future is just as exciting as the past, involving a range of similar and new challenges.
As we approach the joyous Christmas vacation, the words of Mary Rubin – "Time does not pass, it continues," echoes throughout my ears as we all welcome 2019, for what will undoubtedly be a time of excitement for everybody at HISV, bringing further joy and smiles on the faces of all pupils.
Merry Christmas and a Happy New Year.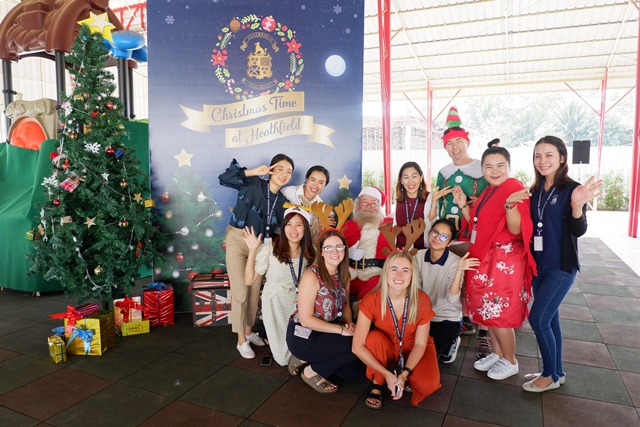 NURSERY – TERM 1
Our journey in Nursery this term has been absolutely magical! We have been on a joyride of expected dips, fantastic peaks and explorative curves.
It is wonderful to see how far we have come since our first week in Nursery class. In the first week, we had buckets of tears as we said goodbye to Mommies and Daddies and hello to the school family.
Nursery Superstars have settled into our daily routine which gives us more freedom to introduce new songs and activities. Now that the children are familiar with the daily rhymes, activities, songs, instruction and basic language, their eyes beam with delight as they respond with a keener understanding each day.
We look forward to reaching our next Nursery milestone as we embark on an adventure all about Animals
(in the jungle and the ocean).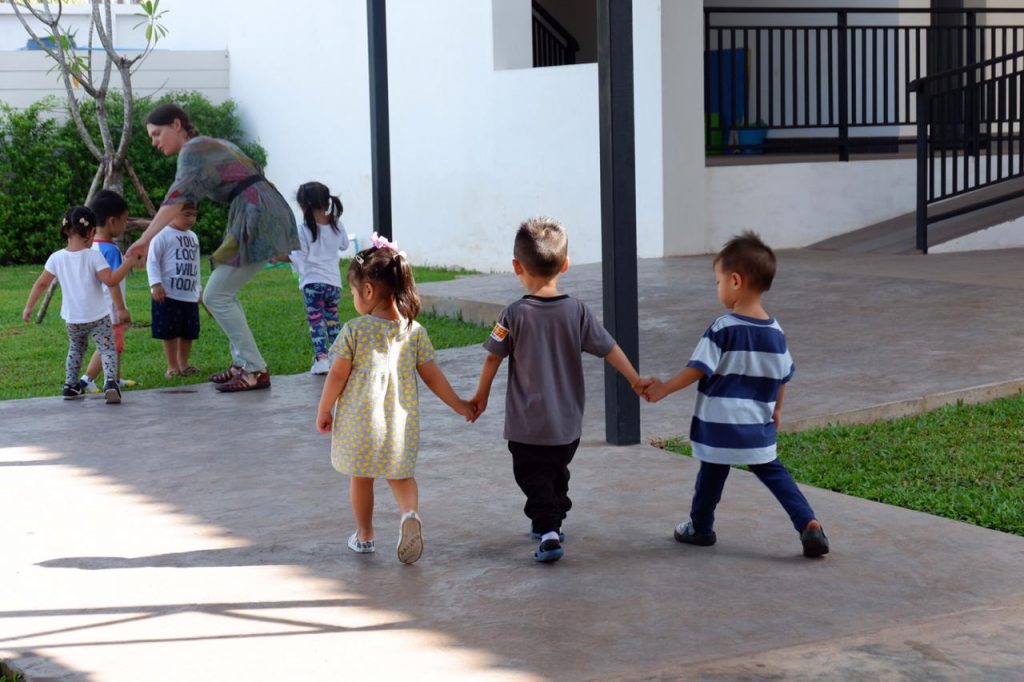 RECEPTION 1 – TERM 1
In Reception One, our topic for the second half of term has been 'around the world'. To stimulate an interest in this topic, we have been reading the story 'Ted's Big Adventure' by Jo De Ruiter. This story is about a bear named Ted who jets off on holiday around the world. He visits Spain, Italy, France, China, Egypt, America, and Australia.
To combine the topic with literacy while achieving the learning objective of using language to imagine and recreate roles and experiences while also developing our communication skills and ability to identify key events in a story, we had three tables set up that had activities related to each country. The learners 'flew' to Spain and made sand castles, ate pasta in Italy, built their own Eiffel Tower in France, saw pandas in China amongst other things. This was done over the space over a few weeks so it gave the opportunity to develop language and become familiar with the text. Reception one really enjoyed these activities and immersed themselves really well.
Reception One has also been learning letters of the alphabet and phase one and two phonics. We have made some amazing crafts to learn about the letters of the alphabet such as a J Jellyfish and K Kite. They also use materials such as buttons, string, and clay to practice creating the formation of the letters individually.
In problem solving, reasoning and numeracy we have been learning to identify numerals 1-9, counting objects to 9, and have begun to identify basic 2D shapes. In class to make identifying and learning numbers fun, we introduced our math monster 'Greedy Gobster' who likes to eat numbers but only if it matches what is called out. Learning shapes we have done activities that have involved making the shape out of our bodies and chalk drawing shapes and pictures using the shapes we have learned.
In creative development, to keep in align with the topic around the world, we drew pictures of where we went on holiday. However, to make things more interesting and to practice our pencil grip, we did these pictures upside down by having the paper stuck to the bottom of our desks by tape. It made for some interesting pictures!
Overall, Reception One has shown a vast improvement in their learning in the past few weeks and has begun working really hard to achieve the curriculum objectives. Well done Reception One, we look forward to seeing more exciting learning from you over the next term.
The children in Reception 2 have had a fantastic first term at Heathfield. The topics covered this term were 'Ourselves' and 'Buildings'. The children enjoyed talking about themselves and their families with their peers. They learned all about different buildings from around the world and thoroughly enjoyed making their own buildings using junk art and sharing these with the rest of the children in our class assembly.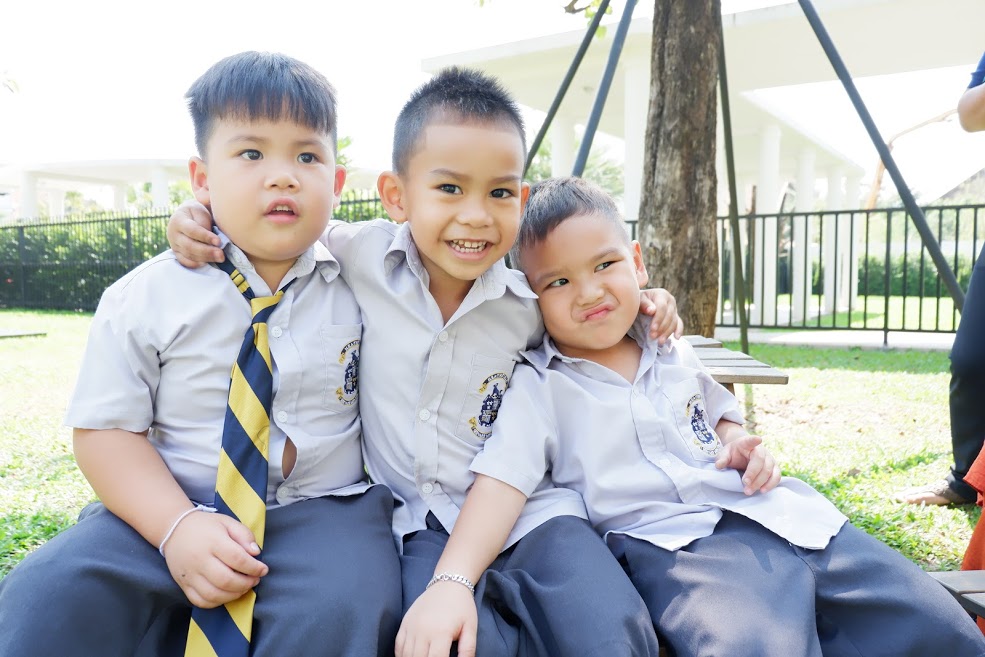 RECEPTION 2 – TERM 1
In literacy, the children have been working hard on letter formation and learning the Jolly Phonics sounds. They can recognise these sounds in words and are beginning to blend the sounds together to read and spell words. The children have also been introduced to some high-frequency words which they can identify around the classroom. They love listening to stories and especially enjoyed listening to and reacting the story of The Three Little Pigs.
The children have been learning to count from 1-10 in mathematics. They have worked hard to recognise, form and order these numerals. The children are familiar with the words shorter, longer, greater, heavier and lighter. They created patterns using paint, playdough, beads and lego. The children can also recognise 2D shapes (square, circle, rectangle and triangle) and enjoyed sorting these and making the shapes with lollipop sticks and playdough.
During creative play, the children completed crafts linked to the sound of the day. For example, when learning about the 'r' sound they made straw rockets and when learning about the 'f' sound they painted paper-plate fish. The children enjoyed building things with lego and making things using playdough. The Building Site role play area was also a firm favourite.
I am extremely proud of the progress the children have made so far and look forward to watching them progress further in Term 2.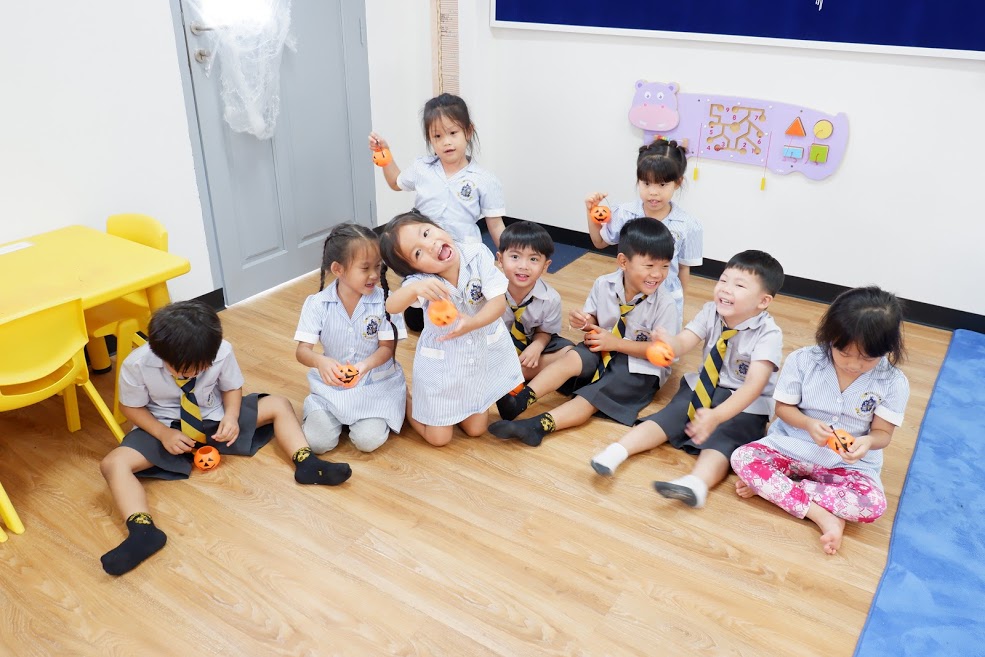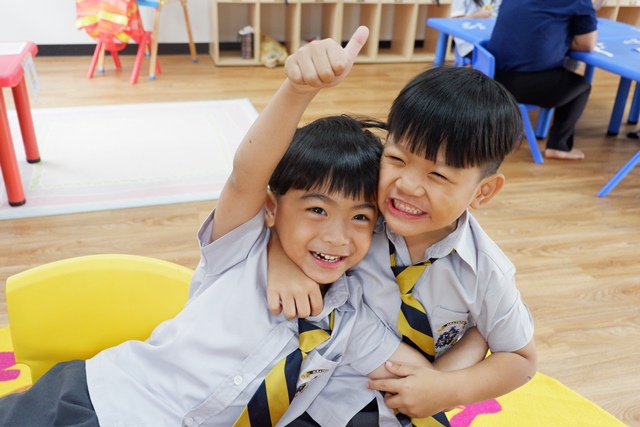 YEAR 1 – TERM 1
Our first term in Year 1 has come to an end! This term we have all tried our best with every challenge which has come our way and as their class teacher, I am so pleased to say that I am so very proud of all the effort put in and the progress made so far.
We have been working really hard with beginning to recognise phonic sounds and learning how to put words together. By using a variety of games and repetition, the children are now regularly hearing sounds they are familiar with and can build words which are phonetically plausible. We wanted to challenge ourselves further with our literacy so have put a lot of effort into finding out how to build a sentence and what punctuation we need to use. We can even recognize and use a question mark!
It has to be said, we got a lot of help from Zog and the Witch with our learning this term and they have enjoyed it almost as much as we have!
During our maths lessons, we have been focusing mainly on place value, knowing how much a number is worth, and continuing on to broaden our understanding by learning how we can use this knowledge to make more or less. We can count in twos and know what an odd and even numbers is and through this learning have even made our own number lines. We understand what ten looks like and can use this to work out which two numbers we can add together to make ten.
We have been lucky enough to travel through time, learning all about an Englishman called Guy Fawkes, what he did and why we still remember him today. The children in Year 1 can recite the rhyme about Guy Fawkes and now understand why there are fireworks on the 5th of November in England every year.
Our favourite item though has been the globe as it has helped us to understand why Laos doesn't have as many different seasons as the UK. We even turned our classroom into a solar system to understand what a year looks like and why it takes some planets longer than others to travel around the sun.
I hope our next term of learning is as productive and exciting!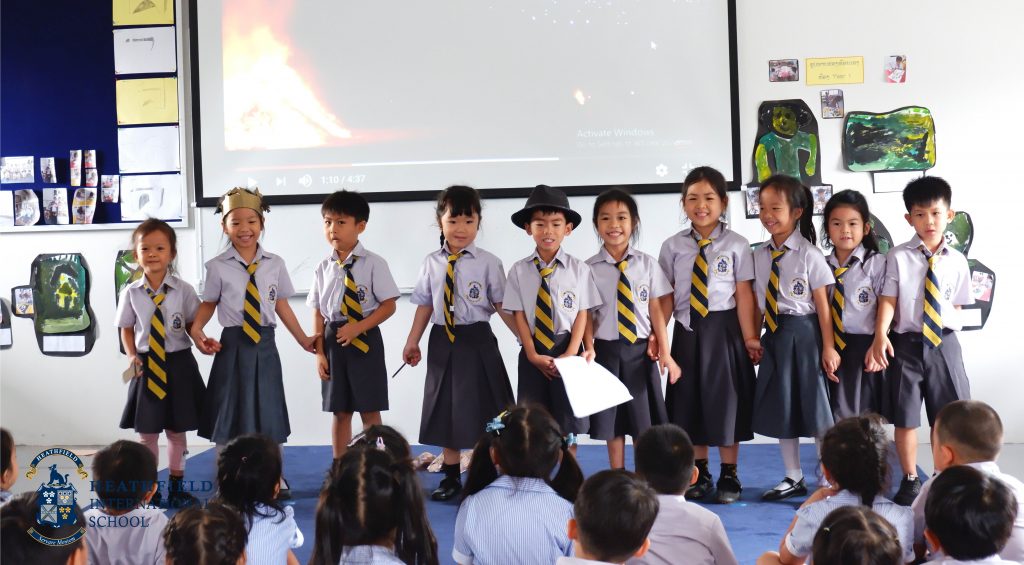 YEAR 2- TERM 1
As we approach the end of Term 1 we are reminded of the tremendous progress and excellent learning that has taken place in the Year 2 classroom. It has been 14 weeks of fun-filled activities and active learning where the pupils have explored a variety of topics and themes across the curriculum. Here is a more detailed account of some the activities which have taken place in some of the curriculum subjects.
Pupils engaged with tactile and experiential learning in phonics and literacy creating and manipulating common exception words with playdough. Literacy lessons included a unit on the narrative "Bog Baby" which the Year 2 pupils studied with great interest and enjoyment. In this unit, Year 2's have constructed their own instructional writing pieces on "How to look after a Bog Baby". We have also been improving our comprehension skills by learning about making predictions and sequencing key events in a range of narratives.
Year 2's have been focusing on improving their number sense and mental and written arithmetic in Numeracy by completing a variety of activities using manipulatives.
In Science, Year 2's have been learning about Healthy Eating along with Animals and Life Cycles. Pupils brought in empty food packets from home and we created a classroom food pyramid to categorise foods in various food groups. We also learned about the life cycle of various animals such as mammals, reptiles, and amphibians and studied the life cycle of a frog in greater detail. In Science, pupils have been developing their scientific skills of observation, identification and classification from engaging with these classroom activities.
Year 2's have expressed their creativity and imagination in their artwork this term. They have created wonderful pieces of art inspired by famous artists such as Claude Monet and Guisseppe Arcimboldo where they have recreated the famous "Water Lillies" painting using chalks and also drawn their own fruit faces like Arcimboldo's paintings. To bring the end of term to a close Year 2's have ignited their festive spirit in preparation for the Christmas season. Year 2's love sensory and practical activities and there was no better way to make some magical Christmas reindeers other than using their feet to make prints!
It has been a term filled with lots of learning and laughter in Year 2. We cannot believe how quickly this term has went. You know what they say? "Time flies when you're having fun".
We are very eager to get back in the classroom in Term 2 to continue our learning journey!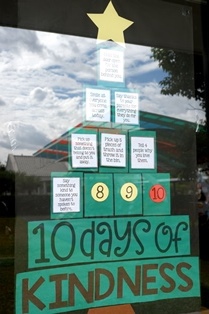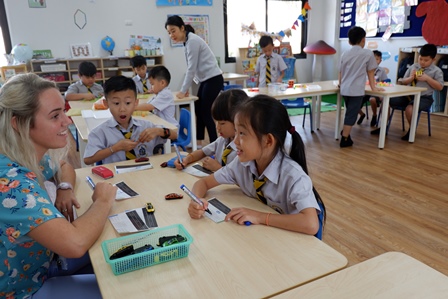 YEAR 3 – TERM 1
Much has happened, as you may know?
We dressed as mummies and watched a garden grow.
We were messy exploring the possibilities of paint.
Careful and softly with the clay; here we needed more restraint.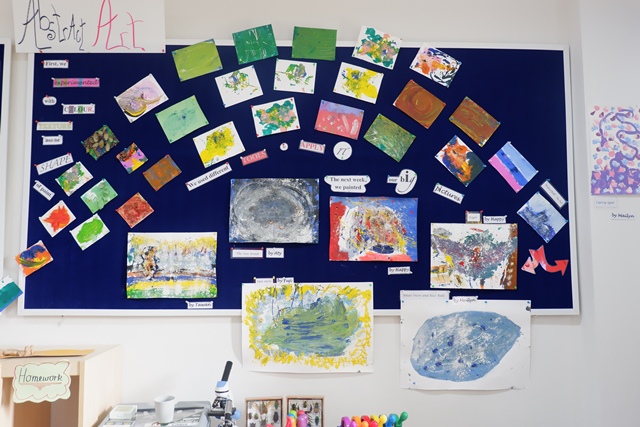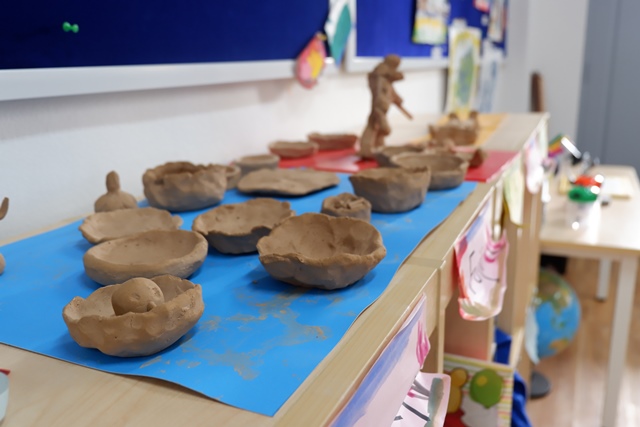 We played a game 4,000 years old.
And wrote a fairy tale that should be told.
Once upon a time in a land far, far
away there lived a poor, little girl.
She lived in a small, old cottage ….
We solved a problem or two in Maths.
How many Squares can you find?
Don't forget you can rotate.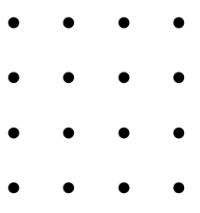 And yes, we learned a lot of facts.
We investigated that and investigated this.
Aty Fuji
Happy Mailyn
Mouky Tawan
Bye for now, and Merry Christmas !